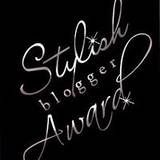 I got these pretty awards from
Purple Froggy Clay Stuff
.Thank you! :)
I need to:
-Link back and thank my giver.
-State 7 facts about myself you may not know.
-Choose 15 other bloggers
-Let them know about the award
Hmm...The 7 facts about myself:
1.I blog with my cats.They have their own chair beside mine.
2.I refashion old clothes on a daily base,but I don't post any of them because all the pictures I take of the finished project sucks.
3.Every now and then I manage to tear out one of my dreads.>.<
4.I got thrown out of business school because of "bad behaviour" so after a year I signed in and finished medical school instead.
5.I sleep too much.
6.I'm terrified of deep water.
7.I make funny faces whe I sew or watch TV.
Ok,enough about me,now it's your turn! :)
Creativemind's Creations
Sugar-Coated Chaos
Kitkat's Katchat
The Crafting Vine
Ozkur's Tail
The Roots of Design
World of Loulou
Rock'n Roll stops the traffic
Moobear Designs
Made by Raki
Raberry BubbleZ
Kiddo's Shenanigans
Rachie Lives and Loves
Mama Crafts Because I Cry
This is what I did today
Twilightzoneish
Little Blue Pig

Who Eats Pie?
The Child-like Empress
That's not 15,but I wanted everyone to join the fun. :)