Although my birthday didn't turn out the way I planned,I got some beautiful treasures that are now close to my heart.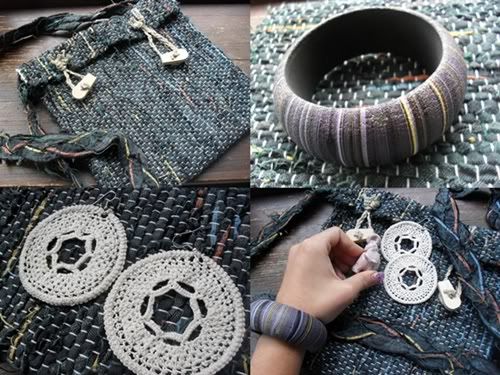 We went to a fair the other day where I spotted this unique handmade bag.A lady was selling them with some other hand weaved items. I know (and made) bags like this before,but the fabric and the buttons where so perfect that Joci got it for me. Yes,he is awesome. I also got the tiny white elephant there too.
The bangle is from my very good friend from childhood. I think the colors are perfect.
The crochet earrings are from my best friend Anna. I am in love with it and wore them almost every day since she gave them to me.
Some more pictures of the details I love. The strap of the bag is amazing! It is three strips of fabric weaved together and sewed over with a machine so it would stay flat. I'm sure I will use this on my future bag projects,because it's simply brilliant.
The last picture is of the white elephant who joined the others.
There is a guy who makes pottery and showes up at almost every fair that I go. He makes these little elephants and paints them in many colors. I made a little tradition,that every time I see him selling somewhere,I get an elephant in different color.
And now something completly different!
My Tiny Lilly had her babies yesterday!!!! She is now the proud mommy of two little one day old kittens. :) I can't show you pictures yet,I don't want to disturb the little family. Tomorrow Mr.Móric is going to see the little ones for the first time. I hope they wsill get along well,we are keeping them seperated for safety for now.
The babies are perfect! One of them is light grey with white parts and the other one is dark grey and black. Kind of like a wild cat.
Off I go,I have lots of things planned for today. I want to sew two skirts and upcycle a dress,so wish me luck!