As some of you may know,my Lilly went missing three weeks ago. After two weeks of not knowing where she is I started to loose hope and secretly said goodbye in my heart.
You can imagine how happy I was when she showed up at our door the other morning like nothing even happened. You can see on the pictures how much weight she lost,but don't worry I'm already on it to stuff that belly back to normal.
So as a welcome home gift I made her this cute bow collar.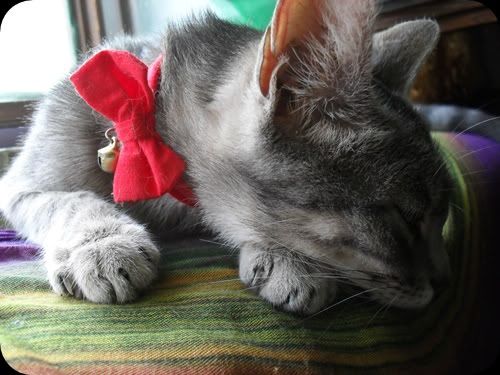 1.measure around your pets neck (don't forget to make the size confortable)
2.cut out a strip of fabric (in my case red,so the collar would be extra girly for my Lilly)
3.sew the sides together and sew down the sides
4. -this is important- add a piece of elastic to the collar!
5.make a bow from the same fabric (there are tons of cute tutorials out there)
6.add a small bell to the bow
7.sew the bow on the collar and show it to your pet :)
I must say,my Lilly didn't even notice that I changed her collar. But thats because she is used to wearing one. :) Is she cute or what? she reminds me of a grey,skinny but cuter version of Hello Kitty. tee hee